We maintain a pride in fast service, honest pricing and unique products. If you have any questions, our phone number is at the very bottom of every page or you can contact us by email at sales@thednastore.com. Feel free to look around - go the the word "shop" on the menu above and choose an area to view.
New and Highlighted Gifts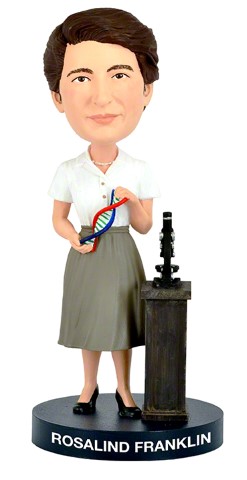 In 1947, Rosalind moved to Paris where she studied X-ray diffraction under Jacques Mering, focusing primarily on the analysis of carbons. To further her career in science, she moved back to London in 1951 to work as a research associate in biophysics. It was there, at King's College London, that Rosalind did much of the research and discovery work that led to the understanding of the structure of deoxyribonucleic acid, DNA.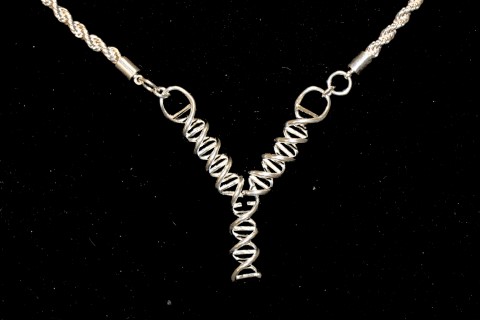 Here is a beautiful replicating DNA pendant. The pendant is about 2 inches x 1.5 inches. This is a gorgeous piece of jewelry that admirably shows the DNA molecule replicating. The necklace comes with the pendant. Note that even the necklace is shaped like a twisted DNA helix. Fun and easy to wear, you will not find yourself at a loss of words when wearing this beauty. The necklace itself is about 14 inches in length.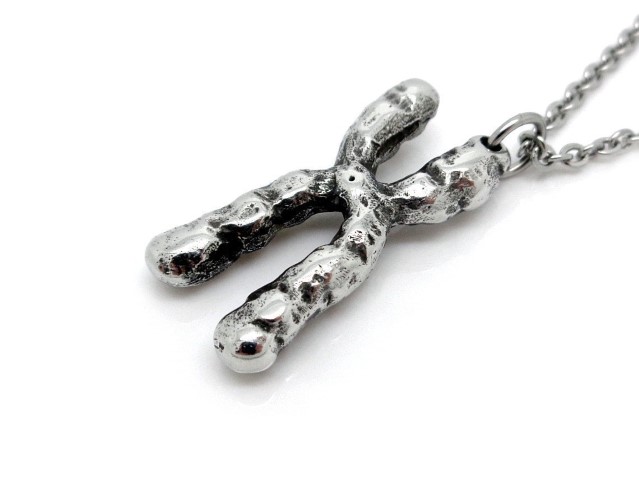 Beautifully made human chromosome model, made from zinc alloy (nickel free and lead free). This pendant is about 2 inches long and close to 7/8 inches in width. This looks good on anyone. Not heavy, this weighs about 28 grams. This pendant does come with a necklace shown..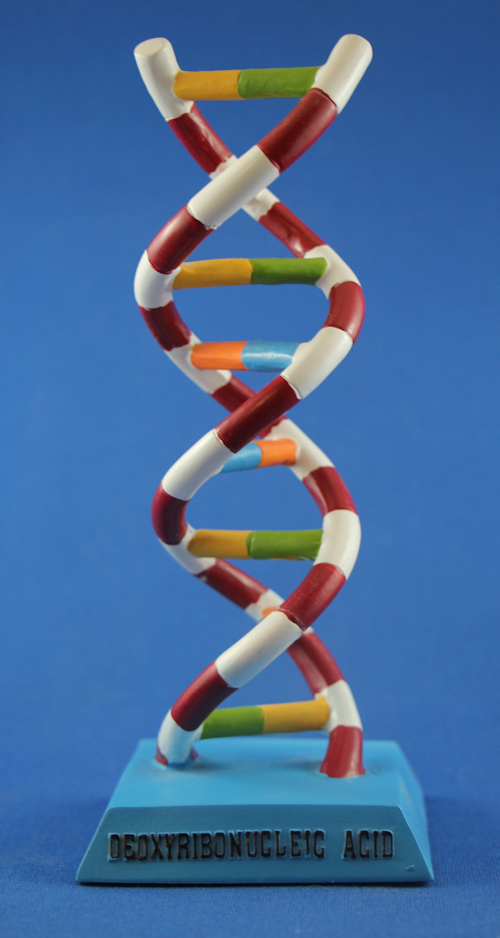 We have released this unique model of a DNA double helix. The base is about t 3 x 3 inches and the DNA is about 7 inches high. One way to mentally view this is that it is about the size of a bobblehead - except it is a DNA strand that does not 'bobble'.
Perfect for the desk, you will draw a lot of attention to this one a kind work of art. Not to be found anywhere else, except here at the DNA store,we offer this to you at a beautiful price of $12.95 each or 3 for $39.90.
Each comes packed in styrofoam nestled in a white cardboard container. A sure winner for anyone interested in DNA or genetics. A perfect gift for yourself, a special teacher, graduate or just as a desk ornament. The base is such that you could even put a bronze plaque on it with someone's name or a company logo. The space available is about 2.5 inches x .5 inches. Needless to say we do not do engraving - that is up to you. Whatever you do, you are certain to love this model.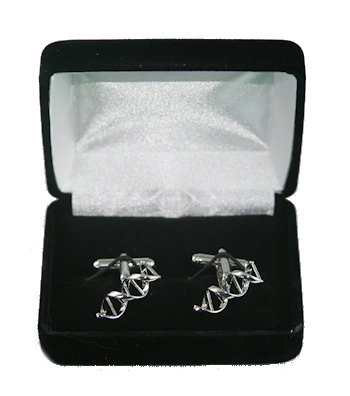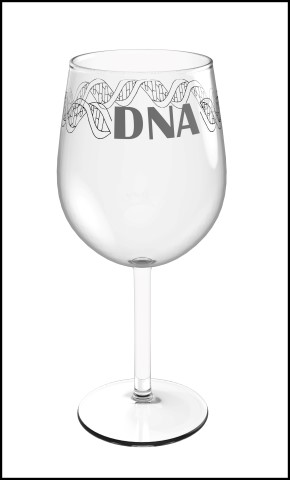 Yes, this is real. We made a DNA inflatable beach toy. Call us strange, but it was something we have wanted to do for a long time. Not only is this a unique beach toy, it is a magnificent model for the classroom. Large - 5 feet long and about 1.5 feet wide, this DNA toy will make the structure readily apparent to everyone. The bases are color coded and down one side of the model are the words "deoxyribonucleic acid".


This is just about as sharp as they get. Here are a few road signs, just in case you loose your way in the DNA highway of life. They would look good walking into a hallway, above one's office or just about anywhere that you think of. Found only here at The DNA Store.com, these road signs are sturdy. They are identical to the thickness and durability of real road signs. These are not inexpensive replicas. They are 16 gauge steel and very heavy! These 6-inch Street Signs, GREEN, ONE-sided, 4-inch Across (High Intensity Prismatic) x 48 inches. The large signs are rather heavy, 3 pounds. They are quality pieces of work.

FEEL FREE TO LOOK AROUND - GO TO THE MENU AT THE TOP OF THIS PAGE,
FIND THE WORD 'SHOP' AND CHOOSE AN AREA TO VIEW
---
New Ideas?
We welcome ideas for new products from individuals. Sometimes we stand in the forest and can only see trees - while there is so much more out there. We solicit your help and your imagination for new and novel items. Remember, the best ideas center around DNA. If you have a suggestion, please let us know at suggestions@thednastore.com.
WEEKLY SALE:
The DNA money clip is the special of the week. Normally $5.95, this item will be marked down to $2.25 for this week only. The DNA Store's own money clip. Carry your money around and organized in the The DNA Store's best ever product. These money clips are made of burnished steel. Travel with confidence when you own this unique product.
Unusual:
Signatures of famous scientists are always unique and hard to find. We have one for sale, though, that challenges the idea of 'hard to find' - that is: Gregor Mendell. This is worth just looking at.