We maintain a pride in fast service, honest pricing and unique products. If you have any questions, our phone number is at the very bottom of every page or you can contact us by email at sales@thednastore.com. Feel free to look around - go the the word "shop" on the menu above and choose an area to view.
New and Highlighted Gifts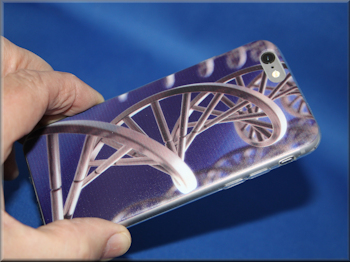 We just had these phone cases made. Right now, they only fit the Apple phones, specifically the 5, 6 and 6s phones. Each looks like the image above. I must admit that we all get excited when we can offer a good product at a great cost. For instance I have always been hesitant to spend $30 on a case when I am not sure that I will like it. Now, we can offer these to you for just $7.95 per case. We really did get a great deal on them and we are passing that unbelievable deal to you. You do not have to spend a lot to get something fun and novel like this. Choose between an Apple 5, Apple 6 or an Apple 6s case..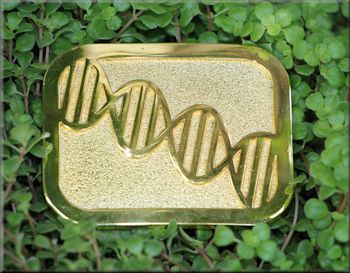 Sometimes we just do things for the fun of it. This is one of those times. This belt buckle is 2 x 2.5 inches. Gold color with burnished gold on the recessed portions of the buckle. Only for fun, everyone will have a kick out this. We even priced this so that one could purchase a large number of these and still not "break the bank".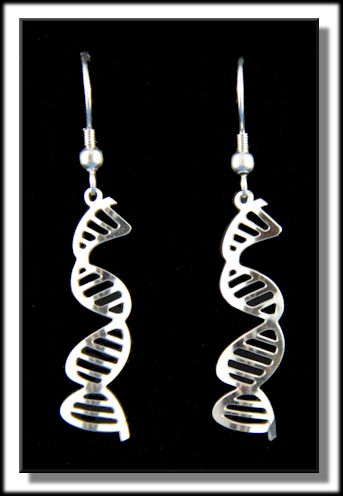 With these earrings, you will fall in love instantly. They are about 1.25 x .3 inches or about 33mm x 10mm in size. They are silver in color and cupro-nickel in body. They are the perfect size to go with just about anything you wear. These are not stylised, but authentic representations of the actual shape of DNA (deoxyribonucleic acid).
---
New Ideas?
We welcome ideas for new products from individuals. Sometimes we stand in the forest and can only see trees - while there is so much more out there. We solicit your help and your imagination for new and novel items. Remember, the best ideas center around DNA. If you have a suggestion, please let us know at suggestions@thednastore.com.
Wired Magazine
Wired magazine recently did an article concerning the Crisper method of genetic manipulation. It goes over concerns and hopes for the new crisper technologies. It starts of by a very quick reminder of the 1975 Asilomar Conference in California. It then quickly goes into the method of genetic engineering resulting from the Crisper-Cas9 gene-editing techniques. Also the Australian Broadcasting Service has a good article on CRISPR.
New Web Site Design
We have just recently done a complete re-design of our web site. It is rather complex and lends itself to the many "small errors" that seem to always come to the surface. Please let us know if you run into any problems with the design and movement within the design. You can email us at sales@thednatore.com.