We maintain a pride in fast service, honest pricing and unique products. If you have any questions, our phone number is at the very bottom of every page or you can contact us by email at sales@thednastore.com. Feel free to look around - go the the word "shop" on the menu above and choose an area to view.
New and Highlighted Gifts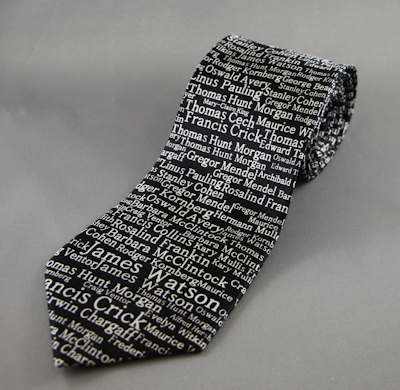 All of our ties are made for The DNA Store. The ties are located at http://www.thednastore.com/dnastuff/neckties.html They are truly one of a kind items. Well made and priced to fit any budget, you cannot go wrong with these. We also offer a magnificent wooden box to present the ties as a gift. You can see the wooden box near the bottom right of this page. Finally to finish off the formal ware, the cufflinks are an impressive addition. Go here for the sale of the "Famous Names Tie". Yes, you can combine this with the 10% coupon on the bottom right of this page.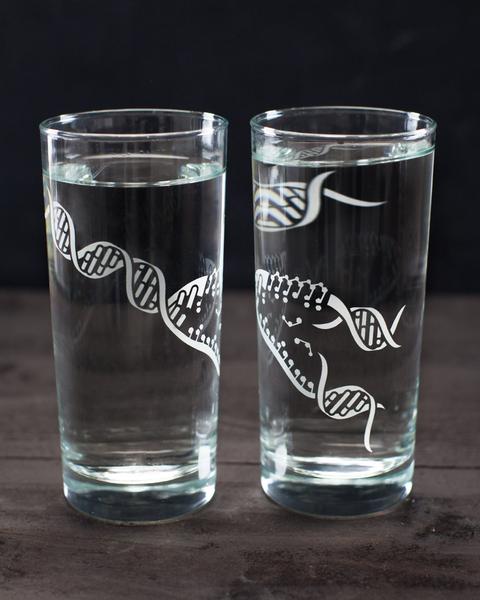 These elegant drinking glasses sport strands of replicating DNA. Mull over the mystery of your genes and keep your neurons firing while you stay hydrated. These are really cool.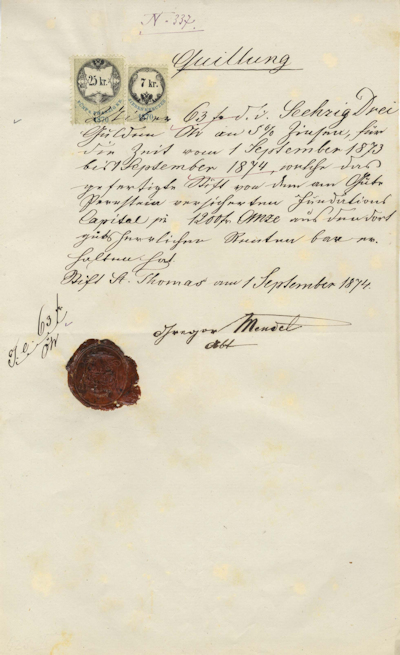 We know, this is hard to believe, but this is really a document signed by the Gregor Mendel in 1874. Almost all his papers were burned after he died. That was to clean up the large mess he left with his scientific notations and description of his works.
We also recognize that this is no casual purchase by an individual. Mostly likely suited to the board room of a biotechnology company or similar avenue, this is a document that will cause anyone's jaw to drop once they look at it. We have looked at this repeatedly with unbelievable awe. This still sends shivers down my spine when I look at it.
This document is signed, one page, 8,25 x 13,5, Brno, 1.IX.1874, in German, untranslated document concerning a financial transaction of 63 gulden, issued from St. Thomas's Abbey in Brno, signed "Gregor Mendel"; an official embossed red wax seal is affixed to the lower left, with two revenue stamps affixed near the top; with mild intersecting folds, light toning and soiling and very mild wrinkles to the top edge - in fine to very fine condition.
---
New Ideas?
We welcome ideas for new products from individuals. Sometimes we stand in the forest and can only see trees - while there is so much more out there. We solicit your help and your imagination for new and novel items. Remember, the best ideas center around DNA. If you have a suggestion, please let us know at suggestions@thednastore.com.
Wired Magazine
Wired magazine recently did an article concerning the Crisper method of genetic manipulation. It goes over concerns and hopes for the new crisper technologies. It starts of by a very quick reminder of the 1975 Asilomar Conference in California. It then quickly goes into the method of genetic engineering resulting from the Crisper-Cas9 gene-editing techniques. Also the Australian Broadcasting Service has a good article on CRISPR.
Purchases:
October 15 thru October 30th, you can apply this coupon number: CBH161005215938 - when you check out and you will receive 10% off your entire order. You will have to then hit the button that says "recalculate" to get this to apply to your order. This is good for only the dates given above.