Juvenile Keichousaurus Dinosaur Reptile Skeleton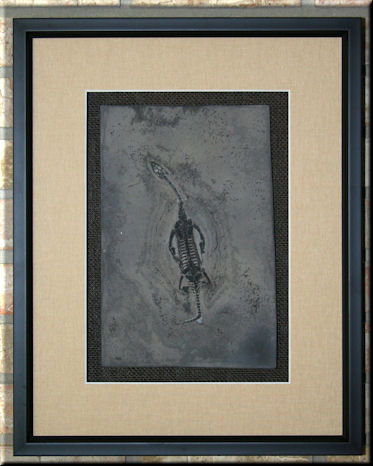 Item SKU: ART3
First, let us tell you that this is 100% real.
It has not be fixed nor altered other than to expose the fossil. Keichousaurus is a genus of marine reptiles in the pachypleurosaur family which went extinct at the close of the Triassic in the Triassic-Jurassic extinction event. The name derives from Guizhou Province in China where the first fossil specimen was discovered in 1957. They are among the most common sauropterygian fossils recovered and are often found as nearly complete, articulated skeletons, making them popular among collectors. Keichousaurs, and the pachypleurosaur family broadly, are sometimes classified within Nothosauroidea, but are otherwise listed as a separate, more primitive lineage within Sauropterygia.
The size is 18 inches x 12.5 inches. Wonderfully framed, hard to believe, but we have the framed original. Here it is, a true one of a kind.
Possibly one of the most impressive items we have seen in a long time. This is beautifully framed. It is about 18 x 15 inches in size. The black frame is 2 inches deep. The fossil is raised from the back surface about 3/4 of an inch. There is no glass on this beauty - it is open. The Keichoursaurus itself is about 7 inches long (would be longer if it was not for the curled tail) and about 2 inches wide. It is complete and untouched with no restoration. This is just a wonderful piece of ancient history that is so special, and so rare. It is as perfect as it gets - and you have our 100% guarantee behind it. We also know that this is a rather unusual specimen to sell on a DNA site, but we liked it so much, we are offering it here.
GENERAL INFORMATION:
PHYLUM:
Chordata

CLASS:
Sauropsida

ORDER:
Nothosauroidea

SUBORDER:
Pachypleurosaur

GENUS:
Keichosaurus

SPECIES:
hui

PERIOD:
Triassic(210 my)

LOCALITY:
Guizhou Province, China
---
View Cart / Checkout
---