The CD was created by Dr. David Deamer, an esteemed biologist at UCSC noted for his breakthrough work on the origins of life and my partner for Sequencia. They use a technique called "mapping" to plot musical rhythms and combinations of tones which are charming and tuneful, as the bases proceed along the double helix. DNA Suite is informational and fun, while DNA Music is for a more meditative mood.
DNA Music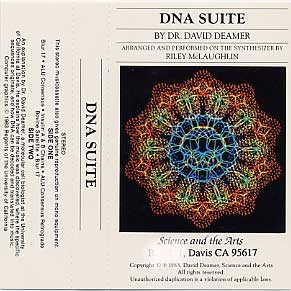 Item SKU: MUS1
This came out as a CD, previously it had only been a tape.
This recording is derived and inspired by the resonant frequencies of DNA. Actual data derived from the light absorption spectra of the four base molecules (adenine, thymine, guanine and cytosine) is used to make up the pitch collection for all the original compositions. The pieces themselves range from zen-like to fanciful and improvisational.
I will share with you that I love this CD. It goes over how the music was done, the sequences - everything you wanted to know about putting DNA to music.
Eikos (9:25)

Introduction(5:00)

Tal (2:30)

Adenine (1:19)

Tal (2:22)

Thymine (1:14)

Tal (2:00)

Guanine (4:24)

Psalmus (2:51)

Pataphysical Thymine (12:13)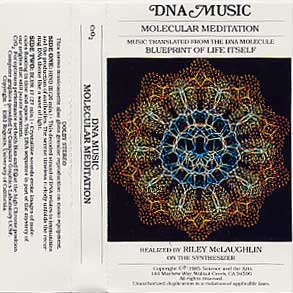 View Cart / Checkout
---