We offer here a signed postcard and a signed picture of Sir Francis Galton. Not only one signature, but you get 2 signatures. A very unusual and special situation. We do offer the impossible finds - they just take a bit longer.
Sir Francis Galton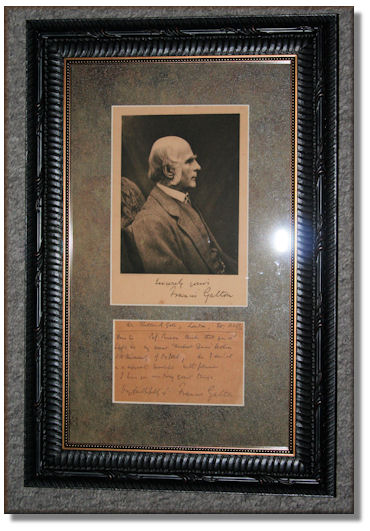 Item SKU: GAL1
The picture is signed "Sincerely Yours, Francis Galton"
The note below is really a postcard. You cannot see the stamp on the back, but it is there. On the obverse side it says:
42 Rutland Gate, London SW, Oct/6 1909
Dear Sir
Prof Pearson thinks that you would like to see my recent "Herbert Species" lecture L-UK - University of Oxford, so I sent it in a separate envelope. With pleasure
I hear you are doing great things.
Be Fairthfull Francis Galton