Father to Son: Truth, Reason, and Decency

Cold Spring Harbor Laboratory Press (May 14, 2014)
THIS IS AN ORIGINAL SIGNED COPY - by James D. Watson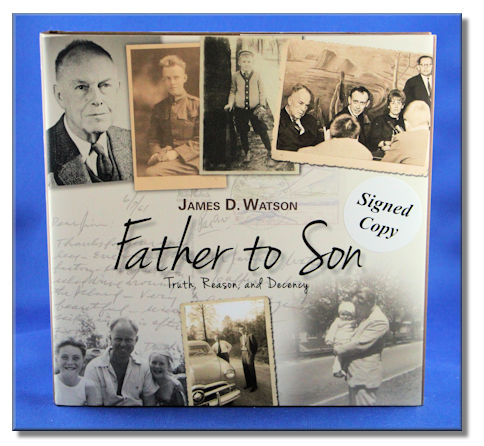 Item SKU: BOOK2
Many of us wonder how our heritage has influenced who we are and what we have become. The renowned scientist and author James D. Watson has more to reflect upon than most. A Radio Quiz Kid at 12 and a University of Chicago student at 15, Watson at 24 had a scientific discovery to his credit - the structure of DNA - that would win a Nobel Prize and forever change our understanding of genes and inheritance. Now, after a lifetime of accomplishment in research, writing, education, and science advocacy, Watson has delved for the first time publicly into his own lineage.
Father To Son was first intended as a small, privately published collection of the writings of his father, James D. Watson, Sr. But when Jim Watson, Jr. began investigating his family history, what emerged was a more complex story - the chronicle of an archetypical American family from before the Civil War to Vietnam. Their history includes settlement in the Midwest, a 20-year association with Abraham Lincoln, a successful search for California gold, and bold but disastrous investments in the stock market. Watson, Sr.'s passion for ornithology led to a short-lived association with Nathan Leopold, who would later be sentenced for murder in the 1924 "trial of the century." His Oberlin friendship with Robert Maynard Hutchins, later President of the University of Chicago, began a family association with the University that continues today. The extended clan also included notable individuals like Watson, Jr.'s great uncle Dudley Crafts Watson - artist and teacher - who, for a time, raised a cousin, Orson Welles, the celebrated actor and director, and an uncle, William Weldon Watson, a physicist and participant in the development of the atomic bomb.
In this book, Jim Watson portrays these lives in a fascinating narrative, illustrated with previously unpublished photographs and period documents, that ends with an affectionate tribute to his father, a man of principle, decency, intelligence, and reason, from whom Jim Jr. learned liberal politics and incisive writing.
Always iconoclastic, in both science and literature, Watson has written his autobiography in installments, beginning with the now classic The Double Helix, followed by Genes, Girls, and Gamow and Avoid Boring People. Concluding The Double Helix, Watson portrayed himself as "...25 and too old to be unusual." Yet, in Father To Son, the latest of his unsparing self-examinations, Watson shows us that his heritage was remarkable after all and that "Most certainly I didn't emerge from nowhere!"
Print Length: 335 pages
Publisher: Cold Spring Harbor Laboratory Press (May 14, 2014)
Publication Date: May 14, 2014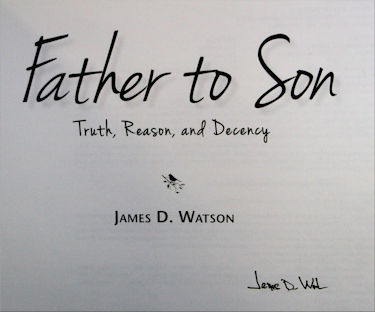 View Cart / Checkout
---