Darwin - The Indelible Stamp Evolution of an Idea
Signed Personally by James Watson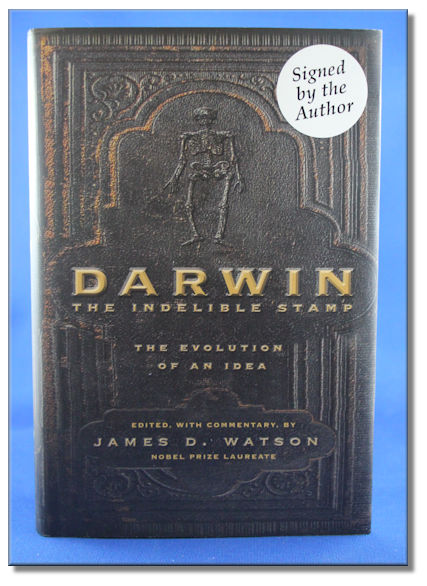 Item SKU: BOOK4
You are considering a hardcover book: DARWIN THE INDELIBLE STAMP THE EVOLUTION OF AN IDEA edited with commentary by James D. Watson;  PUBLISHER: Running Press, Philadelphia; a 2005 copyright, 1260 pages.

This book includes four of Charles Darwin's most influential works in their entirety: The Voyage of the Beagle, On the Origin of the Species, The Descent of Man and The Expression of Emotions in Man and Animals.

Synopsis For the first time ever in one volume, here are four of the most influential works of Charles Darwin, reprinted in their entirety, each illuminated by commentary from eminent scientist James D. Watson. Included are On the Origin of Species, arguably the most important scientific work of the nineteenth century; Voyage of the Beagle, a captivating travelogue richly stocked with observations that helped guide the young Darwin through his evolutionary world view; The Descent of Man, which explored the origins of humans and their history; and The Expressions of Emotions in Man and Animals, which explored the origin and nature of the mind. With his separate introductions for each of Darwin's books he goes further to explain how the modern considerations underlying genome research would have been impossible without Darwin, bringing a contemporary relevance to these nineteenth century masterworks.

Four of Charles Darwin's most influential works in their entirety contained or the first time in one volume In this exciting new anthology, readers can trace the evolution of Darwin's own thought processes as he challenges on conventional wisdom, unveils fundamental laws of nature and documents the astounding power and creativity that drives evolution. Each of the works included in the anthology is illuminated by commentary from the eminent scientist, James D Watson. It contains On the Origin of the Species - arguably the most important scientific work of the nineteenth century Voyage of the Beagle - a captivating travelogue richly stocked with observations that helped guide the young Darwin through his evolutionary world view The Descent of Man - the book which examined the origin of humans and their history The Expression of motions in Man and Animals - the exploration of the origin and nature of the. Dr Watson introduces the book with an essay on the importance and singular genius of Charles Darwin, and his separate introductions to each of Darwin's books bring contemporary relevance to these nineteenth century

PUBLISHER: Running Press, Philadelphia
CONDITION: New, perfect, unread book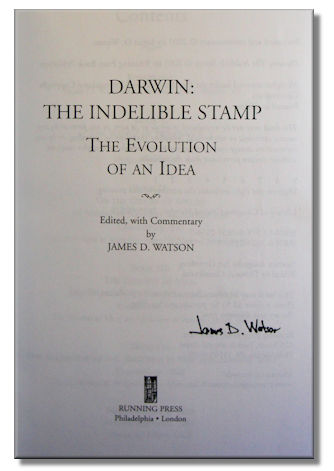 View Cart / Checkout
---