Genes Girls and Gamow
Signed Personally by James Watson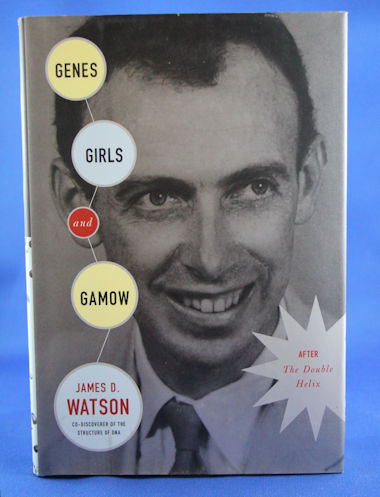 Item SKU: BOOK6
Personally signed by Nobel Prize winner James D. Watson
Genes, Girls, and Gamow, by James D. Watson.  New York: Alfred A. Knopf, 2001.  First edition/first printing.  Octavo, 259pp plus 22pp of photocopied notes and correspondence.  The sequel to James Watson's hugely popular Double Helix debut, this book talks about the aftermath of the discovery of the structure of DNA, and the wildly exciting world of molecular biology in the 1950s.  In this book Watson talks about the other major players of the day, including Pauling, Feynman, and Gamow; their collaborations and collisions in the field; and how he eventually met and married his wife Liz.  A lovely memoir, written in Watson's witty voice, and an inside look at some of the most prominent and powerful men in science history.
Reviews
"A priceless glimpse into the intellectual circle that nurtured [Watson's] revolutionary paradigm." The New York Times Book Review "A fun-filled saga that substitutes Mercedes roadsters and molecular biology for the fear and loathing of gonzo master Hunter S. Thompson." San Francisco Chronicle Book Review "There are scores of wonderful tidbits. . . . To his credit, Watson never spares himself." The Washington Post Book World "Bring[s] to life the amazing brain trust . . . that included American chemist Linus Pauling, Nobel laureate Richard Feynman and Russian-born theoretical physicist George 'Geo' Gamow." Chicago Tribune "An essential coda to The Double Helix." The Boston Globe
336 pages, hardcover book, mint condition, never read.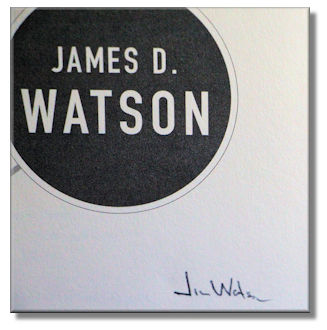 View Cart / Checkout
---