The letter is addressed to Emma's dear friend Frances, with whom evidently she had been in contact with for some time, as she is remembering common friends from years ago, Emily, Ellen, and Lucy, while informing the recipient of her children's marriages. All four of these names are known to appear in Emma's extensive diaries, at the year 1839, her first year married to Charles Darwin. It also appears that Charles would have interest the recipient's son's work or cause.
Autograph Letter Signed
- by Emma Darwin -
Wife of Naturalist
Sir Charles Darwin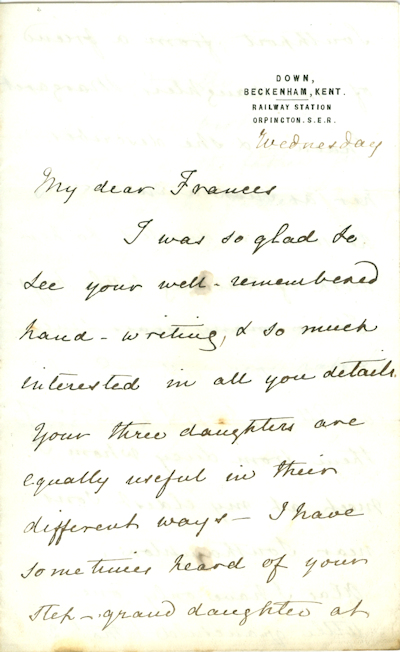 Item SKU: HIST3
This is an Original Signed Letter, written in 1879,4 pages 8vo. Double-leaf, on letterhead, from Down, Beckenham, Kent. Railway Station, Orpington S.E.R . There is toning on the edges of the letter. Leaf measures approximately 11.5cm x 18cm when folded (4.5 inches x 7 inches). Very Good Condition, nicely pressed.
Excerpts from the letter:
" ... Alas I have only one little grandchild. .. & the mother died at the birth. My Jon Frank (the father) lives with us as his father's secretary, so that the little darling is constantly with us."
Sir Francis "Frank" Darwin (1848-1925) was first married to Amy Ruck in 1874, but she died in 1876 four days after the birth of their son Bernard Darwin.
"My youngest son is going to be married very happily before long. "
Sir Horace Darwin (1851-1928) married Emma Cecilia "Ida" Farrer January 1880.
"My eldest sister lives close by & is 86 years old with good health & a very active mind. "
Emma's oldest sister, Sarah 'Elizabeth' Wedgwood (1793-1880) would be 86 years of age in 1879. Interesting mention of her health as Emma was Elizabeth's caregiver throughout t as she suffered from dwarfism and severe spinal curvature. Elizabeth died the year after the letter was written.
"I gather from what my husband says of your son's important undertaking I am sure meets his sympathy, that he will not be able to help him in the way wishes .... I had often heard of your son & some time seen his initials in Theater Review."
Emma signs her letter, "Your affectionate friend, E. Darwin" .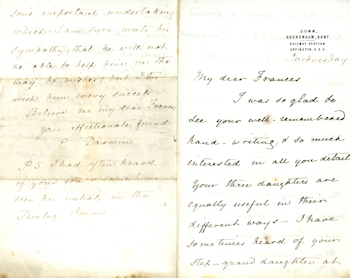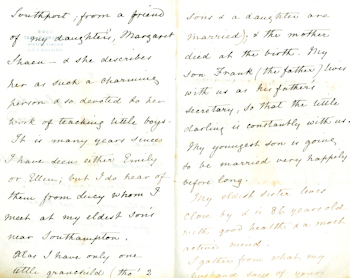 View Cart / Checkout
---