Francis Crick Autograph Letter Signed the Year He Won the Nobel Prize for Discovering DNA ......... "It's Certainly A Pleasure to Join a Club With Such Distinguished Members .,"
Francis Crick Letter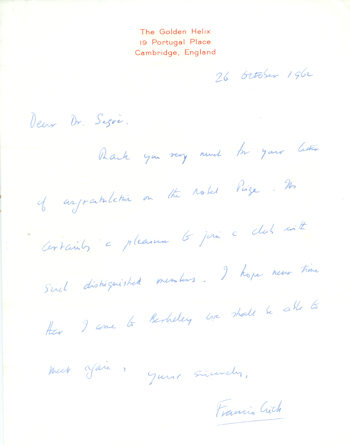 Item SKU: HIST1
Fantastic Francis Crick autograph letter signed, on "The Golden Helix" letterhead.
Dated 26 October 1962, the year Crick received the Nobel Prize for co-discovering DNA. In full:
'Thank you very much for your letter of congratulations
on the Nobel Prize. It's certainly a pleasure to join a club
with such distinguished members. I hope next time that I
come to Berkeley we shall be able to meet again,
Yours Sincerely,
Francis Crick"
7" x 9" letter has minimal creasing, else fine condition. On this large image, there is a watermark imbedded, needless to say, that is in the image, not the actual letter. The letter is really 'cream colored' not white as the scan implies.
View Cart / Checkout
---
Copyright © 2017 The DNA Store All Rights Reserved.
719-937-6762